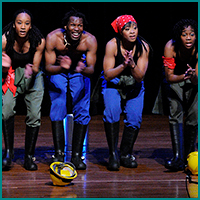 South African-born Lesole Maine invites you to discover the vibrant dance heritage of his homeland. Experience the energy, customs, and cultures of South Africa as reflected in three distinctive regional dances: indlamu, a traditional Zulu village dance; a gumboot dance slapped out on gold miner's rubber boots; and the upbeat urban pantsula. And don't miss the chance to try out some steps!

About Lesole's Dance Project:
The mission of Lesole's Dance Project is to promote the unique movement vocabulary and choreographic style inspired by Southern African heritage and to create opportunities for cultural exchange through educational programming. Lesole Zachariah Maine, the founder of Lesole's Dance Project, was born in Sebokeng, South Africa. In 1995, he was awarded a scholarship to study with Johannesburg based Moving Into Dance Company, where he studied contemporary, jazz, Afro-fusion, modern, ballet, jive, hip hop, traditional and modern South African dance. He has since performed and taught dance workshops in several countries including: Canada, Cote d'Ivoire, Croatia, France, Germany, Holland, Jordan, Lesotho, Malaysia, Nigeria, Portugal, Switzerland, and the U.S. Lesole is currently working with several recognized dance companies, including: Liz Lerman Dance Exchange; Jane Franklin Dance; Step Afrika; Knock-on-Wood Tap Studios, Arena Stage, Dance & Praise Cultural Arts Center; and the Cathedral School for the Performing Arts.
Resources for Educators:
Show Program