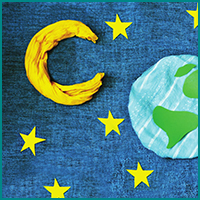 Let's go to the moon! Celebrate the spirit of the Apollo landing in this exciting, interactive show for our youngest audiences. Performers and exquisite puppets spin new and old stories about the moon's magic, create a "living exhibit" of its phases, and introduce the amazing science that brought us to its surface. You might even get the chance to be a moonwalking astronaut.
Connections to the Classroom: Science (earth science, phases of the moon, stars, rockets, space travel); STEAM; Call and Response; Theater/Performing Arts.
Bring this show to your school, library, or community center April 17 to 25, 2023!
Call Artivate at 301-588-7525 for prices and availability.
The 2022-2023 Discovery Theater Season is made possible by generous grants from the Nora Roberts Foundation and the Smithsonian Women's Committee.
---

Learning Guide
Once Upon a Moon Learning Guide
Important Note for the 22-23 School Year
We are so excited to welcome teachers and students back to in-person performances after 2+ years! Before making a reservation for your group, we ask that you please read over our updated Group Sales Policy and review our Health & Safety page to ensure you can comply with the procedures we have in place this year. If you have any questions or concerns regarding either of these policies, please contact us via phone or email and we will be happy to discuss them with you.
Theater Buyout Option for School Groups
If your group is between 45-150 people total (this includes all students, teachers, and chaperones attending) and would like to buyout the theater so your group is the only one in attendance, the cost to do this is $1,000. This option is only available for select shows, a 20% non-refundable deposit is required, and dates are subject to availability. For more information about the payment & cancellation policy for the buyout option, please visit our updated Group Sales Page.