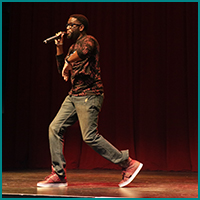 Join multi-skilled musical artist, entrepreneur, and teacher Jastin Artis as he reveals the magic, fun, and power of music-making. Enjoy selections of his original music that fuses hip-hop, spoken word, gospel, and other styles. Then, together with Jastin, explore the anatomy of a song and the artistry and skills that transform a musical inspiration into an onstage reality. You'll leave with your creative juices flowing!

This show will be a mix of performance and candid conversations about creating and following your dreams; great for music camps, leadership camps, and entrepreneur camps. After the show, students will take home a QR code that links to a webpage created just for them! Here, they can access a playlist of music from the show, watch Jastin's videos, leave a message or question for Jastin, or share a song/verse/poem that they were inspired to write after seeing the performance!
About the Artist: Gold-platinum streaming artist, producer, engineer, and A&R, Jastin Artis, is bilingual in "producer" and "c-level" (senior executives) lingo with nearly two decades of progressive experience in the music industry. He is a multi-skilled music artist, entrepreneur, and teacher. Jastin's goal is to teach the next generation of students about leadership through music. His teaching background includes substituting, tutoring, paraprofessional in both day treatment centers and group homes, and teaching a GED program at Cape Fear Community College.

To learn more, please visit his website at jastinartis.com.
The 2022-2023 Discovery Theater Season is made possible by generous grants from the Nora Roberts Foundation and the Smithsonian Women's Committee.
---
Group Leaders – Have More Questions?
If you're thinking about bringing your camp group to a Discovery Theater show this summer, and have more questions about your visit, please check out our "Summer at Discovery Theater" page for some FAQ's. We will continue to add information to this page over the next few months so keep checking back!