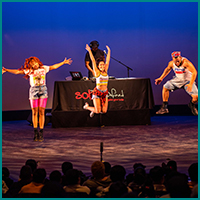 The REMIX is an action-packed, rhythmic rollercoaster, that explores the five elements of percussive dance (RHYTHM, ENERGY, MUSICALITY, IMPROVISATION, and secret X-FACTOR.) This interactive performance fuses global music with tap dance and stepping, with everyone dancing along the way. Get ready to explore ways to create music with your body as we REMIX your summer!
About the Artist: SOLE Defined (SD) is the Washington Metro area's leading arts organization specializing in percussive dance – using the body as an instrument to create musical expression. SD is a fusion of music, movement, and imagination, promoting an understanding and appreciation for African American percussive dance forms rooted in the African Diaspora. Founded in 2011, under the joint leadership of Ryan K. Johnson and Quynn Johnson, SD merges education, performance, and community outreach to advance respect for Black vernacular percussive dance and to raise admiration for the genre as a vital part of the concert dance academia.

To learn more, please visit them online at soledefined.com
The 2022-2023 Discovery Theater Season is made possible by generous grants from the Nora Roberts Foundation and the Smithsonian Women's Committee.
---
Group Leaders – Have More Questions?
If you're thinking about bringing your camp group to a Discovery Theater show this summer, and have more questions about your visit, please check out our "Summer at Discovery Theater" page for some FAQ's. We will continue to add information to this page over the next few months so keep checking back!