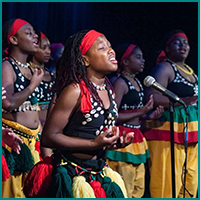 The Taratibu Youth Association (TYA) is a sensational ensemble of young artists representing the performing arts of the African diaspora. With eclectic and diverse musical influences, they perform percussive dance styles from stepping to traditional South African Gumboot, modern dance to hip hop. TYA sings in Zulu and Sotho from South Africa, Kiswahili from Tanzania, Creole from Haiti, and Yoruba from Cuba. Their performances are educational and inspirational, telling stories of empowerment and cultural history. Learn a song in Zulu, steps from Taratibu; a Pan African drill or learn the history of 'Ti Zwezo,' the traditional song of Haiti.
About the Artist: The Taratibu Youth Association was founded in 2007 by Arla Scott and Naima Hylton. They first performed in 2008 at the Atlas Theatre in Washington, DC and have since performed at Strathmore in Bethesda, MD, the Anacostia Museum, the Smithsonian Folklife Festival, the Museum of African Art, Arena Stage in Washington D.C, the Smithsonian Museum of Natural History, the National Portrait Gallery; Wolftrap Children's Theater in the Woods, and the Oprah Winfrey Leadership Academy for Girls in South Africa. TYA has also performed for the late Maya Angelou and with Grammy Nominated Carolyn Malachi.

To learn more, please visit them online at taratibu.org.
The 2022-2023 Discovery Theater Season is made possible by generous grants from the Nora Roberts Foundation and the Smithsonian Women's Committee.
---
Group Leaders – Have More Questions?
If you're thinking about bringing your camp group to a Discovery Theater show this summer, and have more questions about your visit, please check out our "Summer at Discovery Theater" page for some FAQ's. We will continue to add information to this page over the next few months so keep checking back!