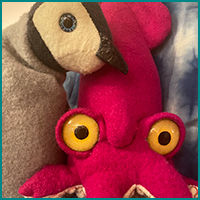 This brand new show from Barefoot Puppets celebrates creative thinking, problem-solving, friendship, and fun! Featuring penguins, a submarine, MORE PENGUINS, orcas, and a curious squid, this show takes the audience on an epic journey to Antarctica. On the way, we encounter unusual creatures in the depths of the ocean. Featuring beautifully handcrafted puppets, a magical set, and an original score by Ned Haskins, this comedic, wordless performance celebrates the ability to create connections despite our differences.
Barefoot Puppet Theatre has been building and performing original works since 1997 when founder and director, Heidi Rugg, began building puppet shows from the basement of her home in Richmond, Virginia. The company has since grown significantly and now tours nationally, while continuing to create new works for young audiences and their families. The mission of Barefoot Puppets is simple: to activate imaginations through the power of puppetry!
The 2022-2023 Discovery Theater Season is made possible by a generous grant from the Nora Roberts Foundation.
---
Important Note for the 22-23 School Year
We are so excited to welcome teachers and students back to in-person performances after 2+ years! Before making a reservation for your group, we ask that you please read over our updated Group Sales Policy and review our Health & Safety page to ensure you can comply with the procedures we have in place this year. If you have any questions or concerns regarding either of these policies, please contact us via phone or email and we will be happy to discuss them with you.
Learning Guide
Coming soon!