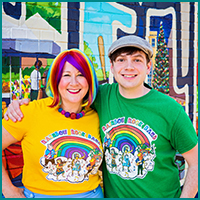 Are you ready to rock the rainbow? Join the Rainbow Rock Band as they entertain our youngest friends with tunes, laughs, and more! Their shows are a mix of musical genres from folk, pop rock to rockabilly, all while being educational and fun! The Rainbow Rock Band has been praised for its positive, high-energy music, which engages young listeners and gets them moving. Children will learn about shapes, colors, movement, and more. All the 'rainbow rockers' in the audience will be encouraged to participate - either on the mic or at their seat. Any which way you play it, your little one is sure to have fun!
About the Artist: Rainbow Rock Band are Winners of a Parents' Choice Fun Stuff Award for their debut CD, "Meet the Rainbow," in addition to a Family Choice Award, a Mom's Choice Award and a National Parent Product Award (NAPPA) winner for their 2018 release "Total Eclipse of the Rainbow."
The Rainbow Lady (a.k.a. Dr. Kate Moran) has been performing and singing from an early age. In December 2014 she received her Doctorate in Special Education Leadership, from George Mason University, and has worked in the field of education for more than 20 years. Dr. Kate's research focused on the effects of the CrossFit Kids Program on improved academics and fitness with students with disabilities. Bringing this amazing knowledge to her song writing and performance, the Rainbow Rock Band is locked into education and movement!

For more information, please visit: rainbowrockband.com.
Check out "Superhero:"
The 2022-2023 Discovery Theater Season is made possible by generous grants from the Nora Roberts Foundation and the Smithsonian Women's Committee.
---
Group Leaders – Have More Questions?
If you're thinking about bringing your camp group to a Discovery Theater show this summer, and have more questions about your visit, please check out our "Summer at Discovery Theater" page for some FAQ's. We will continue to add information to this page over the next few months so keep checking back!