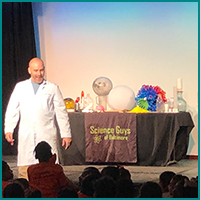 Send your kids to space with the Science Guys! Using a huge Hoberman sphere, we'll create the earth's rotation as it spins through space, simulate how day and night occur, learn how long a year is, and demonstrate what causes the seasons. This show is all about the Earth's place in the universe, but we'll also blast off rockets to learn about the vacuum of space and how astronauts live in the international space station!
Connections to the Classroom: Science (solar system, stars, rockets, visible light spectrum, forces of motion); STEAM; Call and Response; Theater/Performing Arts
The Science Guys of Baltimore started in 2016 and offers exciting and accessible children's science programming year-round throughout the Maryland and DC area. To learn more, please visit them online at https://www.scienceguysofbaltimore.com/.
The 2022-2023 Discovery Theater Season is made possible by generous grants from the Nora Roberts Foundation and the Smithsonian Women's Committee.
---
Learning Guide
Out of this World Learning Guide
Important Note for the 22-23 School Year
We are so excited to welcome teachers and students back to in-person performances after 2+ years! Before making a reservation for your group, we ask that you please read over our updated Group Sales Policy and review our Health & Safety page to ensure you can comply with the procedures we have in place this year. If you have any questions or concerns regarding either of these policies, please contact us via phone or email and we will be happy to discuss them with you.
Learning Guide
Coming soon!